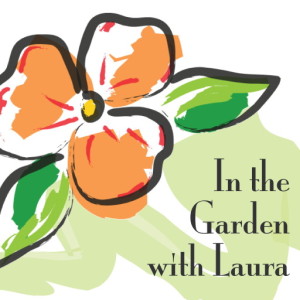 Imagine dappled wooded paths lined with native plants. Envision serene ponds brimming with wildlife and encircled by native orchids. Picture a grass- and flower-filled meadow bordered by dogwoods. If this appeals, visit Mt. Cuba Center.
Set in the lush rolling hills of the Delaware Piedmont, the public may visit and take tours or special programs from April through October.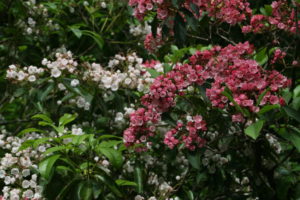 Thousands of native plants fill acres of gardens designed in naturalistic styles. The names provide a clue of what one will find: Dogwood Path, Meadow, Ponds, West Slope, Woods Path, Trillium Garden and Trial Garden.
Mt. Cuba has more formal gardens as well: Lilac Alleé, Formal Garden and South Terrace.
My husband Dave and I visited Mt. Cuba with the Carroll County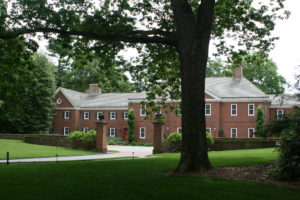 Master Gardeners last month. The tour took a little over an hour but I could have spent the whole day exploring. I look forward to returning soon.
The gardens we visited were beautiful. Each had a distinct persona. The West Slope Path wound down a tree-lined path. The shade-loving Foam flower or Tiarella Cordifolia, with its dainty white flowers, was a special treat. Columbine or Aquilegia and Indian pinks, Spigelia marilandica, were prolific.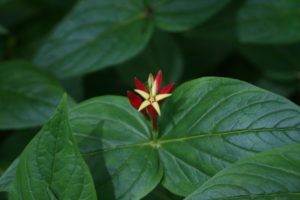 The Indian pinks were the show-stealers. Scattered throughout the gardens, their delightful red and yellow flowers sat above their green leaves and caught the eye.
Multiple varieties of ferns and countless other plants enjoyed dappled sunlight.  Non-native rhododendrons leftover from earlier gardens, trees, hemlocks and others plants formed the wood's upper stories.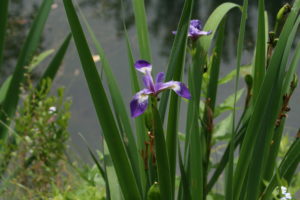 When we reached the bottom of the hill, the sound of water gurgling from ponds greeted us. To reach them, however, we had to navigate our way past hundreds of tiny American toad, Bufo americanus. They were migrating away from the pond. They hatched this spring from nest in the ponds once able to survive outside of the water they head to the woods.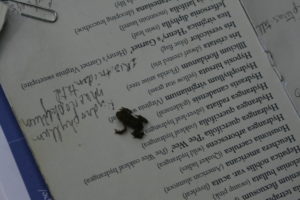 Once safely across the water (without injuring any toadlets), the path led to a larger pond surrounded by Joe Pye weed, irises and other lush vegetation. We continued to a meadow of grasses and flowers.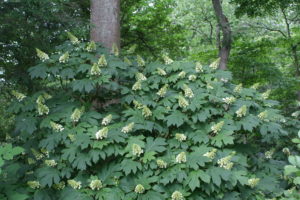 We then took another path that included massive Oakleaf hydrangeas, Hydrangea quercifolia. Indian pinks once again appeared. The plants we saw are too lengthy to recount here but you can take a virtual tour at http://mtcubacenter.org/visit/tour/spring/
The Bigger Picture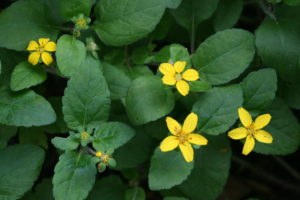 More than 500 acres, called the "Natural Lands," surround Mt. Cuba's gardens and managed landscapes. Described as "steeply rolling hills, stream valleys, rock outcrops, and deciduous forests," by Mt. Cuba literature, the center aims to restore and conserve this land. The public can access these areas through educational programs and scientific research projects and collaborations.
The center also maintains a horticultural research garden. They have focused on the genera Coreopsis, Heuchera, Baptisia, Monarda and Trillium. Among their most popular introductions are Aster laevis 'Bluebird', Aster novae-angliae 'Purple Dome' and Solidago sphacelata 'Golden Fleece'.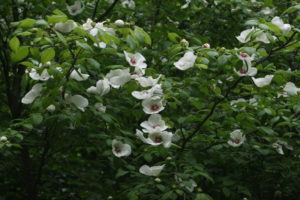 Mt. Cuba Center is a member of the American Public Gardens Association (APGA). Based primarily in North America, it is an association of public-garden institutions and professionals.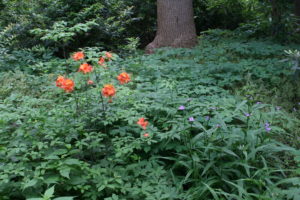 Mt. Cuba has been accredited by The Plant Collections Network (PCN) for their collections of Hexastylis and Trillium generea.  They are recognized for their superb quality and suitability for research. For more information about the PCN visit https://publicgardens.org/programs/plant-collections-network/frequently-asked-questions.
History of Mt. Cuba
Mt. Cuba owes its existence to the Copelands, Lammot du Pont Copeland and Pamela Cunningham Copeland.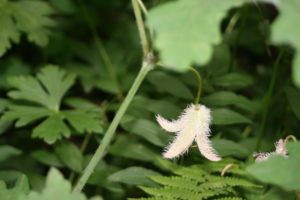 They purchased 126.7 acres near the village of Mount Cuba in 1935 where they built their home. The original gardens were designed by landscape architect Thomas W. Sears.
Pamela Copeland's interest in plants native to the Piedmont region was reflected when she created a small wildflower garden in the 1940s. The formal gardens were expanded in 1949 by landscape designer Marian Coffin. An additional 17.72 acres were purchased in 1959. These later became the site of the naturalistic gardens.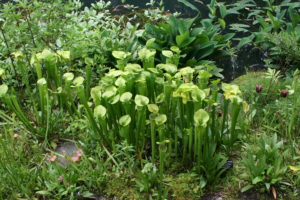 In the 1960s, the Copelands became increasingly worried by many new land-use practices. In addition to their interest in ecology and conservation, Pamela Copeland was specifically concerned about preserving wildflowers. The impact of development and unscrupulous horticultural practicing troubled her.
In 1965 landscape architect Seth Kelsey was hired to create a native woodland wildflower garden at Mt. Cuba. Ponds and woodland garden paths were also added.
In 1983, Mt. Cuba's first director of horticulture, Dr. Richard Lighty, was hired. As the Copelands extended their horticultural efforts to study native plants of the Appalachian Piedmont, Mt. Cuba became a botanic garden within a private estate. In 2003 the center was endowed as a foundation for preserving and propagating native plants from the Piedmont region.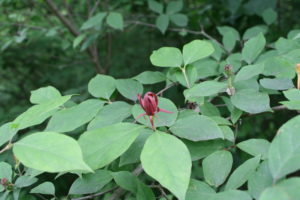 The center aims to display the extraordinary beauty of native plants in their natural setting to inspire and instruct people about the need to protect our national treasures and their habitats for this and future generations of people and wildlife.
"I want this to be a place where people will learn to appreciate our native plants and to see how these plants can enrich their lives so that they, in turn, will become conservators of our natural habitats," said Pamela Copeland.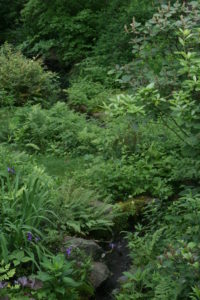 Although the Copelands have passed away, their legacy thrives.In 2003 Mt. Cuba was placed on the National Register of Historic Places. Ten years later, it opened for general admission and in 2016 general admission was expanded to five days a week, Wednesday through Sunday.
"There is such a renewed interest in using native plants in our landscapes and Mt. Cuba provides the opportunity to see these plants in a natural environment.  No matter the growing season, visitors will see a variety of plants in bloom or with fall interest," said Jo-anna Conrey, the Master Gardener who arranged our trip and selected Mt. Cuba Center as a location.
Mt. Cuba Center is located at 3120 Barley Mill Rd., Hockessin, Delaware. It is near Wilmington and within easy driving distance to major cities in surrounding states. For more information, call (302) 239-4244 or visit their website at http://mtcubacenter.org/. The site, which is well worth exploring, contains information about native plants, nurseries that sell natives in various states and a virtual tour of the gardens.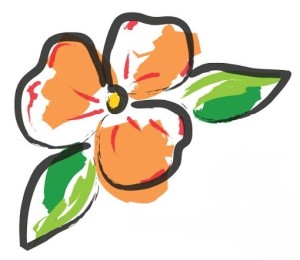 Laura
Photos, top to bottom: Mountain-laurel (Kalmia latifolia); the former home of Lammot du Pont Copeland and Pamela Cunningham Copeland; Indian pinks (Spigelia marilandica); and blue flag (Iris versicolor) http://mtcubacenter.org/plants/blue-flag/ greet visitors to Mt. Cuba.
A toadlet (Bufo americanus) takes a detour while migrating. They hatch in the pond but as soon as they can survive out of the water they head to the woods.
Native Oakleaf hydrangea (Hydrangea quercifolia); Green-and-gold (Chrisogonum virginianum) http://mtcubacenter.org/plants/green-and-gold/; Silky camellia (Stewartia malacodendron)  http://mtcubacenter.org/plants/silky-camellia/;  Florida flame azalea (Rhododendron austrinum) http://mtcubacenter.org/plants/florida-azalea/; and a celandine poppy's spent seed pod (Stylophorum diphyllum) line Mt. Cuba's paths.
The carnivorous Green pitcher plant (Sarracenia oreophila) http://mtcubacenter.org/plants/green-pitcher-plant/ seems ominous compared to the Sweetshrub (Calycanthus). A picture of Mt. Cuba's naturalistic gardens and streams shows the garden's more bucolic side.