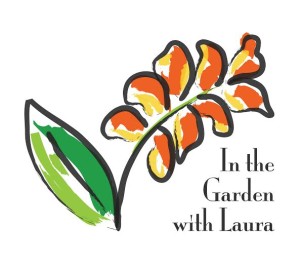 Fifteen minutes from the Atlantic, a Florida garden jungle has had two lives.
In 1929, two developers, Waldo E. Sexton and Arthur McKee,  purchased 80 acres. Located along the Indian River in Vero Beach, they intended to plant a citrus grove.
The area included Southern live oaks (Quercus virginiana), cabbage palms (Sabal palmetto) and pines (Pinus). They thought it was s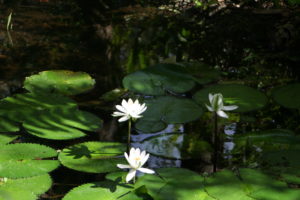 o beautiful that they decided to create a garden instead.
Called the McKee Jungle Garden, it was a collaboration. Waldo E. Sexton designed and constructed the whimsical buildings. Arthur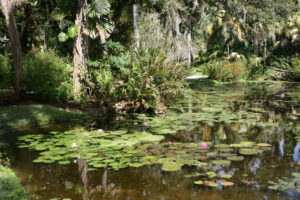 McKee collected the plants. They hired William Lyman Phillips, a renown Florida landscape architect, to design the ponds, waterfalls and vistas.
Opened in 1932, the naturalistic garden included a huge collection of water lilies and orchids as well as other native and exotic subtropical plants. Phillip also designed what has been called a stunning "Cathedral of Palms." More than 300 Florida royal palms (R. regia) were planted in majestic rows.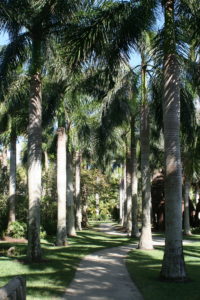 The gardens included monkeys and even an alligator named "Ole Mac."
Initially a popular tourist destination, it fell out of favor and closed in 1976. The bulk of the property was developed, including the beautiful riverfront.
For 20 years, 18 acres sat abandoned until it too was slated for construction. A local group, the Indian River Land Trust, purchased it in 1995. An additional two acres were added later for parking.
The McKee Garden Reemerges
After clearing invasive weeds and saving whatever plants remained from the original garden, the process of rebuilding its infrastructure began, said Andreas Daehnick, director of horticulture. Pathways, waterways and bridges were created throughout the garden.
Landscape Architect David Sacks, RLA, was hired to work on the garden. He was a fitting choice. He had written his dissertation on William Lyman Phillips, McKee's original architect.
The goal of the garden's caretakers? Recapture the original vision of a subtropical jungle, said Daehnick,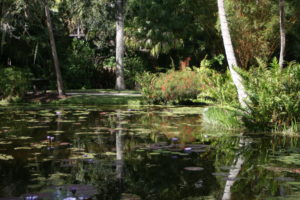 McKee's team were helped by the extensive historic documentation that had been saved from the original garden, including designs of the royal palm grove. The material proved invaluable, said Daehnick. Original designs were replicated and reincorporated where possible.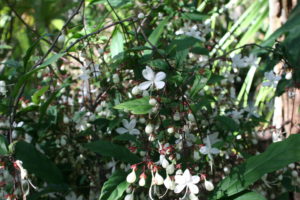 Renamed the McKee Botanical Garden, it opened in 2001. It became a subtropical oasis treasured by surrounding communities and those who visit it.
McKee, 15 Years After Reopening
Although it is located on busy Highway 1, all sense of the outside
world disappeard when I stepped onto the grounds.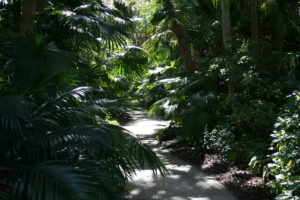 My path leads to massive clumping bamboo and a grove of stunning palms. Bromeliads (Bromeliaceae), Spanish moss (usneoides), and colonies of Orchids (Orchidaceae) hang off palm trees (Arecaceae); Southern live oaks and other trees.Tillandsia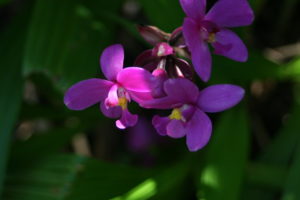 McKee's collection contains more than 10,000 plants. There is a roughly 50/50 mix of native and exotic species.  If you count individual plants, however, approximately 70 percent of them are native, said Daehnick.
Of all the plants under his care, Daehnick prefers Simpson's Stopper (Myrcianthes fragrans). A low maintenance native, it's flowers, berries, and evergreen leaves add to its appeal. Either a shrub or small tree, it attracts butterflies and birds, said Daehnick.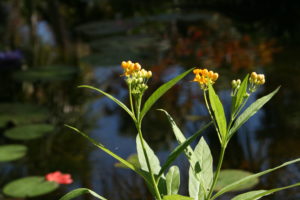 I follow a winding path along a stream that leads to the lily ponds. Purple, yellow and white lilies (Nymphaea) and lotus (Nelumbo nucifera) bloom in a series of ponds. McKee has one of the largest collections of water lilies in the area. Florida lays claim to four native species. Another 100 cultivars call McKee home, said Daehnick.
The walkway around the lily pond leads to a leafy subtropical path and a meandering stream. More lilies and lotus fill the waterways while exquisite plants grow along the banks.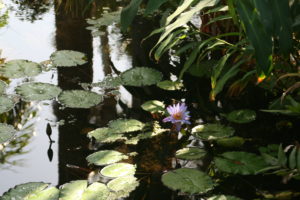 Lush as the garden looks, all isn't lilies and palms. As any gardener knows, invasives pose a problem. In Florida, they can be especially challenging. One of the most aggressive invasives at McKee and in Florida came from South America. Related to poison ivy, the Brazilian pepper-tree (Schinus terebinthifolius) completely overruns Mangrove communities and threatens other areas. They can grow 30 high and live 30 years.
Another invasive, a vine, grew on a fence at McKee even after it roots were severed and the lower 4 feet had been removed. Daehnick said that they ran an informal experiment. Would the vine keep growing even though it wasn't attached to the ground? It did, a lot. They ended the experiment and removed it.
The wrong plant in the wrong place can do amazing things!
If you are near Vero Beach area, stop by. I hope you find this American subtropical jungle as beautiful and serene as I did.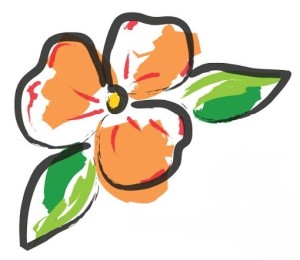 Laura