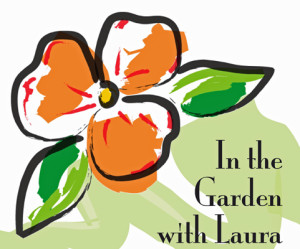 "Snow birds" aren't the only birds to flock to Florida in winter. So, when my husband and I recently visited Vero Bea
ch, we went birding.
One of our stops was the Pelican Island Audubon Society. The visit wasn't what I expected. I thought I'd see trails an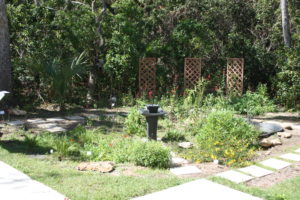 d birds. Instead, there were plants and people. The people were enthusiastic, knowledge and so friendly that I was ready to become a volunteer.
The Gardens
One of the people we met was Ken Gonyo, Pelican Island's volunteer coordinator. A volunteer himself, he gave us a tour of the gardens, which he designed.
The gardens in front of the society's two buildings have a formal style, reflecting the tastes of many home gardeners. It becomes less formal the further into the grounds you walk.
In the back, there is a lovely butterfly garden recently created by Gonyo. His focuses on butterflies for two reasons: he loves them and they are an effective way to introduce students to nature.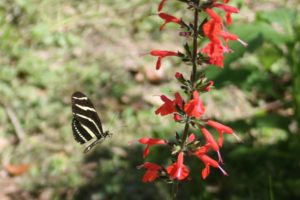 The garden features native plants.  Tropical sage, Salvia coccinea, attracts Florida's native Zebra longwing butterflies, Heliconius charitonia. The flower's range extends from southeastern Canada through the eastern and southwestern United States and part of south America. They are a wonderful addition to any garden in the Northeast. Continue reading Plants, People and Yes, Birds: The Pelican Island Audubon Society →